Building block, A: Country and VET overview
Our informants agree that the VET reforms in last few years are not of substantial nature, but rather represent revision of the existing structures. New VET Core Curriculum was in the centre of discussions in last two years and delays in approving the document affect the alignment of VET programs with Labour Market needs.
Despite some progress, there seem to be no major developments that could significantly affect the structure of the economy and demand for skills. Certain sectors like agriculture, manufacturing and IT seem to be experiencing positive trends (partly due to donor support), however the economy is still dominated by low value added services.
Building block B: Economic and labour market environment
Kosovo faces high unemployment and weak job creation. Although the unemployment rate in Kosovo decreased from 30.4% in 2017 to 29.4% in the second quarter of 2018, a deeper analysis shows that this was not due to creation of new jobs, but to increased inactivity rate which rose from 57.2% in 2017 to 59.6% in Q2/2018.
The most vulnerable groups in the society are the most challenged in the labour market. From the perspective of employment, the gender gap is very high – only 12% of working age women are employed compared to 44.8% of working age men.  On the other hand, 82.6% of the working age women are inactive compared to 36.9% of working age men. Youth unemployment rate in Kosovo continues to be very high – 55%, as well as the share of young people not in employment, education or training (NEET) – 30.2%
Shortage and mismatch of skills continue to represent a major impediment to economic growth. Many companies report problems hiring new employees, largely because of insufficient experience or skills. Well-established and export oriented companies emphasize the need to make significant investment in providing remedial training to their staff. Kosovo businesses have already expressed their concern for shortage of skills in the sectors of Construction, Health and Hospitality, which is largely attributed to migration. Also, there is a strong perception that this trend will continue due to the needs of developed countries for skilled labour force, with those unskilled risked to be left behind.
Building block C: Social environment and individual demand for VET
Vocational Education and Training is mostly the second best choice, and when someone attends a VET school, he or she usually does so with the prospect to obtain a Matura which provides access to tertiary studies – the actual goal of the vast majority of all Kosovan youth. Today, IT, Business administration and Health profiles are able to attract more students, whereas a number of other profiles demanded by the labour market struggle for students.
Vulnerable and marginalized groups have limited access to VET. With regard to participation in VET, the most vulnerable groups are: women; Roma, Ashkali and Egyptians; as well as disabled persons. Whereas 41% of student population in vocational schools are women, they represent only 34% of trainees in the VTCs.
Low employability of VET graduates. There is a considerable discrepancy between the number of new entrants in the Labour Market and number of vacancies available, whereas there is an abundance of evidence on employers' dissatisfaction with the skills of VET graduates.
Building block D: Internal efficiency and operation of the VET system
There is a wide consensus that the quality of VET provision in Kosovo is still far from acceptable international standards. Business community reports serious problems in hiring qualified staff, and expresses general distrust towards the VET sector in Kosovo. In addition, businesses complain they need to make significant spending for remedial training of their workers to be able to complete essential tasks.
One of the root causes for the low quality of education is considered to be the poor quality of teaching in schools. As a rule, teachers in Kosovo are required to complement their university education by in-service training, but the capacity for provision of in-service is insufficient due to the limited number of training providers and scarce resources. This situation is also reflected in vocational schools where, in addition to theoretical part of the programme, teachers are required to provide practical training to their students.
Building block E: Governance and financing of VET
Except for six VET schools directly managed by AVETA, all other schools are administered by municipal authorities based on the Pre-University Education Law. Except for seven regional centres (Prishtina, Mitrovica, Peja, Prizren, Ferizaj, Gjilan and Gjakova) all other municipalities have at most two vocational schools under local administration. In such circumstances, it is difficult for local authorities to limit the offer of programmes to one or two fields of study, make specific arrangements for staff development and infrastructure, as well as for other quality-related aspects of institutional operation.
In general, the actual funding levels of education do not meet the needs of the necessary improvements of education quality in schools.  VET schools receive an allowance of € 27/year to cover their operational costs which is not sufficient.  Most of budget execution takes place at municipal level, with municipalities managing the procurement and payments. This causes a lot of practical problems to schools, particularly when they need to address their emergent needs. The same applies to schools operating under the authority of AVETA.
In practice, income generation arrangements do not work very well due to constraints imposed by legislation in the field of public finances, taxation and procurement. Therefore, many schools prefer to trade their products for raw material, which is then used for practical training of students
The reform aiming to align VET provision with the Labour Market needs must re-gain strength in order to improve the employability of VET graduates. Since MEST has the lead role in shaping VET policies it is important is to keep its major policy advisory body (CVETA) operational. CVETA brings together representatives of all relevant stakeholders and has potential to facilitate efficient communication between them. There are sufficient provisions in Kosovo legislation which encourage participation of non-state actors in developing the VET system. Furthermore, cooperation with the business community is the crux of government strategies for development of vocational education and training.
With that in mind, the following recommendations may be considered to address the major challenges of VET and employability of VET graduates in Kosovo.
B1. Improve the business environment
Kosovo faces considerable challenges in the effectiveness of public services and judiciary which discourages foreign direct investment in the country's economy. Also, significant improvement is needed in ensuring stable supply with energy and providing a cost-effective transport infrastructure. Other measures include improved access to finances for domestic companies and providing incentives to foreign companies willing to invest in Kosovo.  Reducing informality is an important aspect of improving the business environment, since the large scale of informality discourages businesses from investing and hinders economic growth.  
B2. Improve the quality of employment services and expand the scope of ALMMs
The MLSW Sectoral Strategy 2018-2022 anticipates a series of measures to improve the quality of services for unemployed: building capacity of the Public Employment Service by means of staff training and improvement of infrastructure; expanding and diversifying the employment services by offering timely information for job-seekers and career counselling for them; making the recently introduced Labour Market Information System (LMIS) fully operational, and so on. Active Labour Market Measures should be expanded to reach more job-seekers with particular focus on most vulnerable groups: long-term unemployed, youth and women.
B3. Align VET programmes to the demands of the labour market
As the first step, more attention should be paid to forecasting of skills demanded by the labour market. For that purpose, Education&Training System should have a more intense communication with the business sector. Review of the VET curricula should be carried out in close cooperation and with active participation of the business community. The Government should carefully review the programmes offered by the public VET providers to ensure that profiles and enrolments match the needs of the labour market.
B4. Promote entrepreneurship learning in schools
Entrepreneurial education helps young people develop new skills that can be applied to other challenges in life. Non-cognitive skills, such as opportunity recognition, innovation, resilience, teamwork, and leadership will benefit all youth whether or not they intend to become or continue as entrepreneurs. The Education System is responsible for teaching entrepreneurship in the most suitable way, and therefore the inclusion of entrepreneurship-related topics within the ICT course should be re-considered.
C1. Improve the image of VET
The KESP 2017-2021 anticipates a series of awareness raising activities targeting students of final years in compulsory education, with the aim to inform them on the potentials of vocational education and training, and the options available. However, the best way to improve the image of VET is to demonstrate its relevance to the labour market needs which requires substantial improvement in the quality of VET provision.
C2. Provide flexible learning paths for VET learners
Modularisation of VET qualifications and arrangements for recognition of prior learning may encourage learners from different categories to pursue careers requiring VET qualifications. Young people facing barriers to learning may benefit from an extended period to complete their studies, the possibility to attend courses broken down on manageable blocks or the possibility to build on skills and competences they already have. 
C3. Introduce career guidance for VET learners
As specified in KESP 2017-2021, career guidance should be introduced in all vocational schools in Kosovo by appointing and training career guidance counsellors. Also, the MLSW Sector Strategy 2018-2022 anticipates provision of career counselling services through the employment offices and by improving the recently introduced Labour Market Information System.
C4. Increase participation of vulnerable and marginalised groups in the VET
Kosovo Education Strategic Plan anticipates the increase by 20% of the enrolment of girls in the technical profiles to be achieved through awareness raising campaigns at school level and media, as well as by providing incentives in form of scholarships or paid internships. Scholarship programs for upper secondary students for Roma, Ashkali and Egyptian communities should continue, and whenever possible be accompanied by mentoring. Disabled persons should receive special attention by the state in order to encourage them to pursue vocational education and training.
D1. Improve the quality of training offered by the VET providers
The major impediment for improving the quality of training is considered to be limited access to and low quality of practical training. Therefore, the major policy efforts are directed towards improving practical training of students in vocational schools.
D2. Provide high quality training to VET teachers
Initial training of VET teachers needs to be organised in accordance with the best international practices and based on the approved occupational standard developed by MEST. Initial training must include pedagogical and practical aspects of teaching in VET schools and therefore needs to involve specific academic units with expertise in the respective areas. MEST has to encourage providers to develop specific in-service programmes for VET teachers, and earmark budget for purchase of training based on the needs of schools. Also, MEST and MLSW have to encourage cooperation of VET providers with industry to help teachers, trainers and instructors update their practical knowledge.
D3. Develop qualifications based on the labour market needs
MEST needs to finalise the core curriculum for VET schools to proceed with reviewing profile curricula and translate them to qualifications meeting the requirements set by current legislation. Qualifications must be validated by the NQA following the usual assessment process. This process has to go hand in hand with developing new occupational standards, where MEST needs to actively coordinate the process with the representatives of the industry.
D4. Help public VET providers meet the criteria for accreditation
Internal quality assurance mechanisms within VET providers need to be strengthened. In addition to quality coordinators, each vocational school has to have departments as organisational units that need to facilitate joint planning, coordination of cross-subject teaching, but also peer-to-peer support (classroom observations). Also, vocational schools need to have school development plans to meet their medium-term needs, including: teacher professional development, improvement of infrastructure, procurement of equipment for practical training, establishing links with businesses and so on.
E1. Explore the possibility for bringing all IVET institutions under the administration of AVETA
It is recommended that MEST commissions a feasibility study on administering of VET and adult education institutions by AVETA as specified in the transitional provisions of the VET Law. A minimum expectation from that exercise would be to have clear picture of strengths and weaknesses of a centralised management of VET in the Kosovo context, good analysis of legal and financial implications, as well as few realistic scenarios for transition, provided that such transition is deemed feasible.
E2. Improve interaction among VET stakeholders
MEST needs to take all measures to make CVETA operational and provide necessary support to its operations. With contribution from CVETA, MEST will be in good position to exercise its policy making function by appreciating positions of all relevant stakeholders, including non-state actors. Good functioning of CVETA would lead to better interaction among VET stakeholders. Interaction with non-state actors should take place at other levels as well. Business representatives should continue to be involved in developing occupational standards and qualifications, whereas regular consultations should be organised by responsible government actors to facilitate their participation in decision making.
E3. Review the funding formula for VET
KESP anticipates the development of new funding formula for Pre-University Education and this task is managed by the Education System Improvement Project (ESIP) funded by the World Bank loan. Given specifics of VET, the work on VET funding formula is running on parallel track, with active participation of major VET donors and under coordination of LuxDev. The process is still at the early stage, but major stakeholders are committed to take into account the best international practices and find a more adequate way for funding VET. 
E4. Strengthen the financial autonomy of VET providers
Kosovo Education Strategic Plan provides a series of measures to improve financial and management autonomy of VET providers. First of all, revision of regulatory framework is anticipated to simplify the procedures for engaging in revenue generation and managing finances at school level. Another way to mobilise more funding is promotion of a business model in selected VET institutions. This model includes the establishment of a new mechanism consisting of three management pillars: 1) liaison with businesses and provision of career guidance services, 2) promotion of income generating activities, and 3) data processing, monitoring and evaluation. An example of such model was built in the CoC in Ferizaj.
Annex 1.1 Quantitative evidence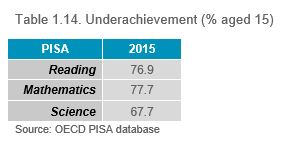 Annex 1.2 Qualitative evidence and examples of good practice Practice firms in Kosovo – A Good Practice Example The story of practice firms in Kosovo started in 2008 with support from the Swiss and Austrian Government for improvement of practical training in business profiles of vocational schools. In order to provide students with job skills, a number of virtual companies were set up in Kosovo vocational schools offering business profiles. A practice firm runs like a real business silhouetting a real firm's business procedures, products and services. It trades with other practice firms worldwide, following commercial business procedures in the virtual economic environment. In Kosovo, each practice firm consists of a number of departments matching the organisational structure in real businesses, like Human Resources, Marketing, Sales, Accounting, and so on. For one year students rotate in different organisational units working on tasks required by the business operations, planning their steps and making independent decisions. Students regularly plan, monitor, evaluate and reflect on their own work results, whereas teachers oversee their work and provide necessary advice. The advice also comes from the mentoring company whose products and services the practice firm silhouettes. Mentor Companies supply information on technical and management issues. Kosovo has its own Service Centre of practice firms which is connected to the EUROPEN Network and has a member status since 2016. Veton Alihajdari (38) is the Service Centre coordinator since 2009. He maintains the practice firms web portal, and helps teachers and students with advise and online operations. Veton also facilitates communication with practice firms from other countries. He faces some difficulties in his work. He sits in an overcrowded office and does not have all necessary means to deal with all requests promptly. Next, he is responsible for 120-130 practice firms all over Kosovo which is beyond capacity of one person. Nevertheless, he enjoys his work and is optimistic about the future of practice firms in Kosovo. The process of setting up a practice firm starts in September when students of the final grade in business profiles get together after summer vacations. They are divided into smaller groups and requested to develop their business ideas based on what they learned in the first two years of their vocational education. They explore the local market needs, contact local businesses for silhouetting and assess benefits and risks of their enterprise. Following presentation of business plans, the whole class decides about the most feasible business idea and the practice firm is established. Upon registration in the Service Centre, each practice firm is provided with the virtual initial capital of € 100,000. A practice firm researches the market, advertises, buys raw materials, transports, stocks, plans, manufactures simulated goods, sells simulated products or services, and pays wages, taxes, benefits, etc. Although there is no actual transfer of goods or money, other transactions take place: orders are made, invoices issued and financial records maintained - including creditors, debtors, stock holdings and so on. Trading with thousands of other firms according to strict commercial principles within the EUROPEN Network is an essential component of the concept. Some practice firms operate continuously for more than a decade, like FU Bauhaus from the Economic School in Prizren facilitated by Mexhide Çollaku, an enthusiastic school teacher of business administration and finances. Mexhide is also one of the most active practice firm trainers. In order to enter the Practice Firm program each school is required to have at least one teacher certified for the practice firms. Veton says that all schools in Kosovo offering business programs have at least 3 certified teachers, except for one which recently started offering such programs. Veton, Mexhide and other trainers are the most meritorious for that. A practice firm operates in a space which is suitable for a large office and can be divided into several sections where 5-7 teams of students run the business. Each team must have at least one computer TORINO PROCESS 2018–2020 KOSOVO | 100 with Internet access and some shelves for documentation. The firm also needs some basic office consumables. Several practice firms from the same school may share the premises as students spend only 6 hours a week working in their practice firms. Donor support for practice firms ended in 2013. Veton admits there are difficulties with provision of equipment and consumables, and even with Internet access, but they always manage to overcome such problems. For 2019, MEST earmarked € 1 mil. for practical training in vocational schools and Veton hopes very much that practice firms will get a slice of it. There is wealth of evidence that the practice firm model helped bridge, the skills' gap which is due to disproportion between theory and practice. By running virtual firms in cooperation with real ones students learn to perform day-to-day business operations, but also to solve problems that typically occur in various situations. The curriculum is well grounded in the national context, and students work by using procedures and best practices applicable in the Kosovo Business Community. Veton speaks proudly about graduates who are running successful businesses based on their experience from practice firms. He would like to see practice firms in adult learning and higher education institutions, and also Special Practice Firms for people with special needs.